An Article from The Australian Financial Review
2 May 2021 – Angela Macdonald-Smith
Victoria wants half of all new car sales in the state to be zero emissions vehicles by 2030 as it targets a cut in carbon emissions of as much as 50 per cent by the end of the decade.
The aggressive new interim targets for emissions reduction, including a cut of between 28 and 33 per cent by 2025, look set to add to mounting pressure on the federal government to take tougher action on climate change.
They may also spell difficulties for carbon-intensive sectors such as coal-fired electricity generation and aluminium production in a state that is traditionally a manufacturing heartland, although EnergyAustralia's deal with the Victorian government in March to bring forward the scheduled closure of its Yallourn generator to 2028 takes some of the heat out of that issue.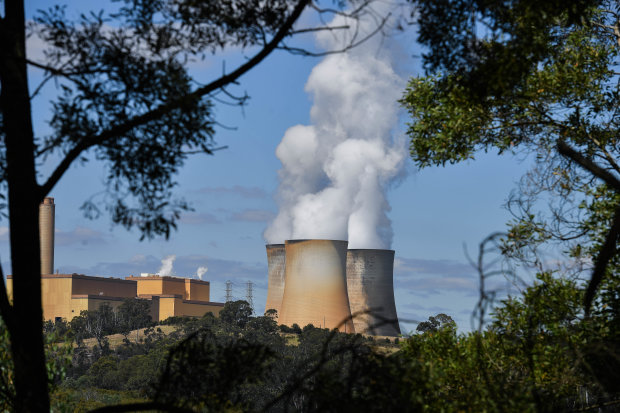 The closure of the Yallourn power station in mid-2028 will make Victoria's 2030 emissions target easier to meet. Joe Armao
Australian Industry Group described the targets as "doable, with care".
"On existing trends, especially in electricity, Victoria's 2025 and 2030 targets look achievable. The state is halfway there already," the head of Ai Group in Victoria, Tim Piper, said.
"Importantly, the numbers and policies announced today don't appear to come with any sudden shocks for Victoria's manufacturing sector."
EnergyAustralia head of energy Liz Westcott said the company was pleased the Yallourn closure plan, which includes a commitment to build a grid-scale battery in the Latrobe Valley, would help Victoria realise its emissions reduction ambitions.
AGL Energy, which owns the large Loy Yang A coal-fired generator in Victoria that is due to run until 2048, said it was reviewing the government's climate change strategy "but supports initiatives that align with our objectives to provide sustainable, secure, reliable and affordable energy".
The discussion over Victoria's future electricity supplies comes as NSW's power industry awaits federal Energy Minister Angus Taylor's next move after his April 30 deadline for commitments from the private sector for 1000 megawatts of new dispatchable generation passed without any public sign of any new projects getting the go-ahead.
EnergyAustralia, the most likely to commit to a new gas-fired plant, reiterated its statement of last Thursday that it was "still working towards a final investment decision" on its proposed $300 million Tallawarra B project on NSW's South Coast.
A spokesman for Mr Taylor said the government "will have more to say in coming days", amid expectations that it will direct government-owned Snowy Hydro to build a gas power plant in NSW's Hunter Valley.
The long-delayed interim targets announced by Daniel Andrews' Labor government in Victoria set the pathway for the state to meet its commitment to have net zero emissions by 2050 while also tapping opportunities to create new jobs and industries from emerging industries.
The government committed to invest more than $100 million to cut emissions in transport, including offering up to $3000 for Victorians who buy zero emissions vehicles.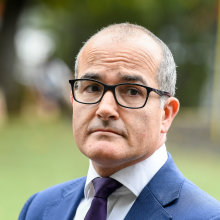 Acting Premier James Merlino says that with strong action on climate change, "we can position Victoria as a global leader". Justin McManus
A further $20 million will be spent to cut emissions in the agricultural sector and work with farms to make farms more sustainable, including $3.9 million for research and trials of new feed to reduce emissions from livestock. Another $15.3 million will go on the Victorian Carbon Farming Program to help farmers store more carbon in trees.
In an Australian first, all government operations including schools, hospitals, police stations and metro trains will be powered by 100 per cent renewable electricity by 2025.
Acting Premier James Merlino said that with strong action on climate change, "we can position Victoria as a global leader – advancing new technology, ground-breaking innovation and driving the creation of new jobs for Victorians".
But lobby group Environment Victoria said the targets still fall short of the science that it said calls for a reduction of 75 per cent by 2030.
"US Climate Envoy John Kerry himself last week conceded that the US target of 50-52 per cent cuts is not enough, and neither is Victoria's target," Environment Victoria CEO Jono La Nauze said.
The Investor Group on Climate Change said Victoria's target of a 45-50 per cent emissions reduction from 2005 levels by 2030 was a welcome signal for fresh investment to reach net zero emissions.
Read the full article online below:
https://www.afr.com/companies/energy/victoria-targets-45-50-percent-emmissions-cut-by-2030