Each quarter the Australian Energy Market Operator releases an in-depth analysis of the energy system and market. Below are some of the key takeaways from the Q2 2023 report. Read the full report here.
Spot prices averaged $108/MWh. Prices halved from $154/MWh in May to $77/MWh in June. (Figure 1)
There was a decrease in volatility with only 3% of price intervals above $300/MWh, compared to 26% in Q2 2022.
There was the second highest year on year growth of distributed PV for any quarter at 1,888 MW, causing a decrease in average operational demand. However, there was an increase in maximum demand outside PV hours caused by the cold weather.
Wind and solar output increased for the quarter (398 MW and 347 MW respectively, Figure 2), while black coal generation decreased by 95 MW and gas decreased by 742 MW from Q2 2022. Black coal generation also decreased significantly during the middle of the day. (Figure 3)
Gas prices averaged $14.20 over the quarter, almost exactly half the price of Q2 2022 but still the second highest Q2 on record. Gas demand fell by 5% from Q2 2022.
The key drivers of the wholesale price in Q2 were:
A drop in coal prices combined with government price caps reduced coal generation costs.
Higher coal generation availability due to lower planned and unplanned outages, despite the closure of Liddell.
Lower operational demand due to increased distributed PV output. There was higher demand in May and resulting higher prices which were caused by cold weather.
Increased occurrence of negative prices caused by increased VRE (variable renewable energy) output combined with lower operational demand.

Figure 1: Average spot prices from 2020 to Q2 2023.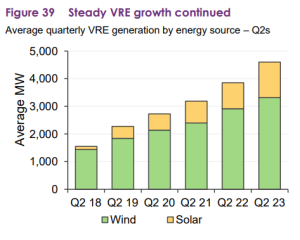 Figure 2: Generation from variable renewable energy for Q2.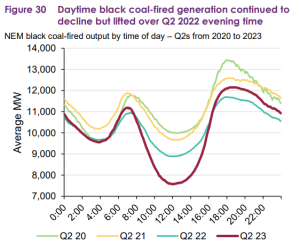 Figure 3: Average daily coal generation for Q2 2023 compared to previous Q2s.