2017 was a volatile year, reflecting in abnormally high contract pricing. SA issues with a precarious balance between supply and demand stems back to May of the previous year with the closure of Alinta Energy's Port Augusta Northern power station, the result of which was less back-up energy available on days of peak demand and a heavier reliance of renewable energy. Its eventual closure not only resulted in a 540MW hole, lifting market prices, but many SA manufacturers raised concerns about the viability of manufacturing in Australia. AEMO, off the back of this, forecast potential lack of power reserves across this summer and every summer until additional supply is added to the mix. This resulted in blackouts in September 2016 and load shedding in February as the country was gripped with soaring temperatures, with subsequent load shedding for neighboring NSW.
All states experienced hikes in market prices in early 2017; many critics blaming skyrocketing prices in QLD on a lack of competition rather than a supply scarcity, while the biggest nail in the coffin came with the Hazelwood power station's closure in Victoria in March 2017. This added extreme pressure to the market, with VIC 2018 base calendar prices climbing above that of neighboring NSW. AGL's well timed announcement of their Liddell power station closure in the NSW Hunter Valley while not scheduled until 2022, only helped to add further uncertainty in a sea of high demand and waning supply. In addition, potential coal shortages for the Mount Piper Power Station in NSW, threw further doubt into the mix for 2017.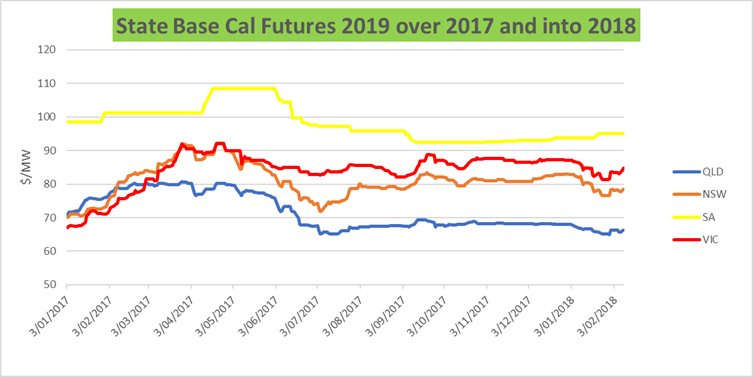 One main contributor to soaring electricity prices has been the sudden spike in gas prices, as LNG plants continued to disrupt the domestic gas market and more gas fired power stations were called upon by AEMO to fill the ever-increasing gap left by the retirement of aged coal generation facilities. As old coal-fired plants have been retired, there has been insufficient investment to replace them because power companies have been left in policy limbo over carbon pricing. Government's lack of intervention and knee jerk policies did little to assist any investment decisions. In the absence of any political leadership, the power industry figured renewables such as wind and solar eventually would be cheaper and more efficient than coal. The problem with renewables is their unreliability, as we have clearly seen in SA. Any shortfall in supply is usually picked up by gas generation, as they can meet demand at short notice, but with high gas prices these power stations (as the last player to enter the market during power shortages) becomes the overall price setter.
Lastly, many people will look towards generator practices and the opportunity for price gauging as power stations look to maximise profits. The dramatic fall in QLP wholesale prices immediately following the QLD governments announcement that they had instructed the state-owned generators to reduce prices to sustainable levels reinforces the belief that the privately owned generators may be price gouging.