From 2019 and into 2020 
2019 was Australia's hottest and driest year on record. This summer saw its fair share of challenges, with the combination of extreme heat, generator and transmission line outages and intense bush fires. This resulted in several days of Lack of Reserve (LOR) conditions, testing the National Electricity Market (NEM) power system and leading to periodic price volatility in SA and VIC in particular. 
With soaring temperatures in December 2019, both NSW and SA hit the market cap price ($14,200/MWh) and on 30 December the Australian Energy Market Operator (AEMO) intervened in the VIC market by activating Reliability and Reserve Emergency Trader (RERT) to sure up supply, as temperatures in some parts exceeded 43 degree Celsius. 
January 2020 saw high spot price outcomes driven by strong volatility in both NSW and VIC. The month started badly with NSW hitting the market cap for an extended period of time on 4 January, as bush fires caused the interconnect between NSW and Victoria to trip and wreak havoc with transmission and substation equipment in the Snowy region, severely constraining output from the Hydro units. As a result, LOR conditions were called with RERT charges triggered for NSW. Strong, heat-driven demand again saw AEMO working hard to maintain supply in NSW with further RERT events on the 23rd and the 31st, with the latter being for both NSW and VIC. However, outside of these volatile periods, spot prices were much weaker than expected, particularly compared to this time last year. 
February's weather was noticeably cooler, which resulted in less demand on the system, compared to the previous year. Spot prices were significantly lower across all states. SA found itself "islanded" from the electricity grid, following the dramatic weather events at the end of January that resulted in a tornado knocking down at six large transmission towers on one of the main 500kV lines in VIC. 
All in all this made for a very tumultuous 2019/20 summer. 
NEM spot prices to 1 January 2020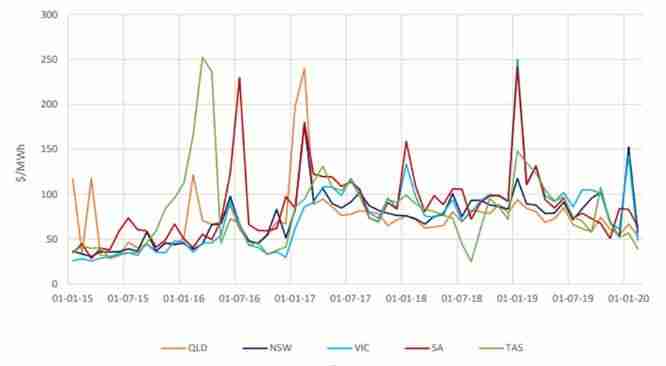 Impact on the contract market 
Coming into 2019 all NEM state contract prices opened higher and continued to rise for the better part of the year through and into October. While October 2019 demand was marginally lower compared to October 2018 the mix of generation had some noticeable differences that contributed to an increase price rise. With a drop in black and brown coal generation, we saw this gap filled by wind and the consistent increase in solar although the step change in price was attributed to the swing in gas fired generation. Further to this, hydro was at reduced capacity due to the drought, AGL had issue with 1 unit at Loy Yang A and Mt Piper had decreased production as coal restraints took effect. 
Relief came in November with improved unit availability after significant outages and strong wind conditions. Despite 2019 being the hottest year on record, the back end of the year didn't see extended spells of hot weather and while there were periods of high spot prices and challenges from bush fires, we didn't see periods of extreme demands that characterised the previous summer. Cal 20 and 21 contracts in each region ended the month lower, with SA experiencing the largest falls. Participants with units out of service re-affirmed that maintenance work was on track, which helped boosted market confidence. 
The trend in November continued through December and into the New Year. It is interesting to note that SA and VIC who had seen the highest base prices for Cal 20 and 21 through 2019 are now at a point where both years are lower than NSW, with many contracts reaching levels not seen for some time. 
With this decreasing price landscape, EMS has seen clients adjust their procurement strategy with some moving to secure longer-term electricity agreements with their Retailers. 
While it has been a long journey since the 2017 Hazelwood Power station closure contract price rise catalyst, the rapid uptake in new generation sources is finally making inroads. However, it is unknown how COVID-19 (coronavirus) will affect the electricity market in the coming months. EnergyQuest's March 2020 Quarterly report has indicated that the COVID-19 outbreak is now having major global and local impact on the energy sector. Another hurdle that the NEM is looking to face is the looming closure of AGL Liddell Power Station, with 1 unit being decommissioned in April 2022 and the remaining 3 the following year. While the NEM grapples with energy market transition as it adapts and readjusts, a firm Government direction on a national Energy policy would be a welcome relief that is desperately needed.