Gas is a vital part of the electricity generation market and as such it helps to determine electricity price on the east coast.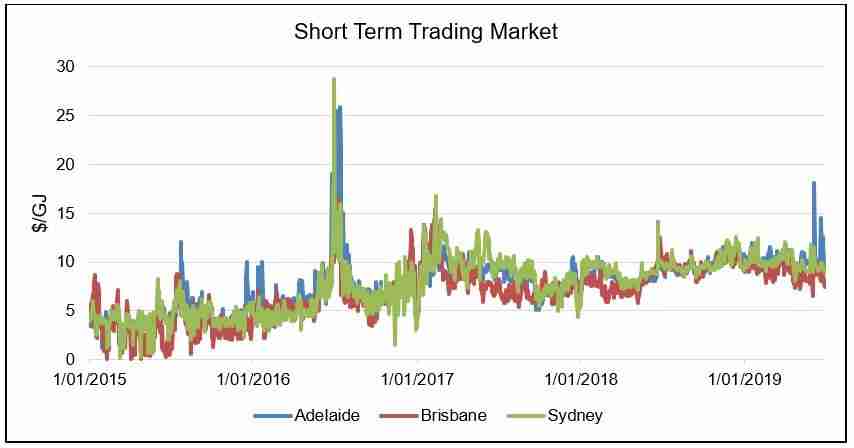 Prices in the eastern states have soared in recent years since the region was linked into the Asian LNG market through Queensland's export plants, which have trebled demand for gas on the east coast.
Gas prices lifted into the back end of May as the cold snap came through, however overall May prices were lower than April. This is most likely the result of the conclusion of Longford gas plant maintenance combined with a very late end to summer.
Gas prices in the Brisbane Short Term Trading Market (STTM) were marginally higher in Q219 relative to Q218, averaging $8.72/GJ. There was no material change in volumes traded through the STTM.
Sydney Q219 average STTM price was $9.79/GJ, which was $1.26/GJ higher than the Q218 average price. Prices during Q219 were highest at the beginning of the month.
Adelaide Q219 average STTM price was $10.45/GJ which was $2.29/GJ higher than the Q218 average price. Sustained higher prices as well as a spike during June contributed to the higher average price.
Victoria Q219 average gas price was $9.54/GJ which was $1.36/GJ higher than the Q218 average price. Prices were higher earlier in the quarter, then converged in May. In late June gas prices softened, potentially on the back of less demand from electricity generators due to high wind.
Increasing oversupply in the LNG market has put pressure on the pricing formula typically used in Asian long-term contracts that links the price to crude oil. While this may not be favourable for LNG exporters it is good news for the east coast gas market, resulting in LNG projects pushing their uncontracted coal seam production into domestic markets.
The latest data assembled by independent analyst EnergyQuest shows that Queensland's LNG exporters are no longer taking in gas from other states. The report indicates that the exporters are strategically avoiding the currently depressed spot market for LNG, leaving them free to sustain east coast demand while meeting their contracted obligations.
Despite ongoing reforms, the east coast gas market is still in a bind, a new gas report by the Australian Competition and Consumer Commission has found. "Progress has been made on repairing it, but it is not fixed," ACCC chairman Rod Sims said. "The market is still too short of gas and still too tight."
The ACCC's Gas Inquiry 2017-20 Interim Report for April 2018 found that while supply conditions and prices have improved since the ACCC forecast a massive gas shortfall of up to 108 petajoules in its last major gas report and prices peaked at $20 a gigajoule early last year, the gas supply market still lacks pricing transparency.
AEMO also called on New South Wales and Victoria to develop existing gas reserves and recommended increasing gas pipeline capacity from Queensland to reduce potential shortages. AEMO went further to blame the potential shortages on New South Wales and Victoria's ban on gas exploration, and declining Victorian offshore gas fields production.