An Article from AGL Energy
30 June 2020
How do we offset carbon emissions?
To offer an electricity product that is carbon neutral certified by Climate Active, we must take action to reduce and remove from the environment the volume of greenhouse gas emissions created by the generation and delivery of electricity.
In other words, if  x amount of carbon emissions is produced in generating and delivering electricity, then x amount of carbon emissions must be removed from the environment. This is carbon offsetting.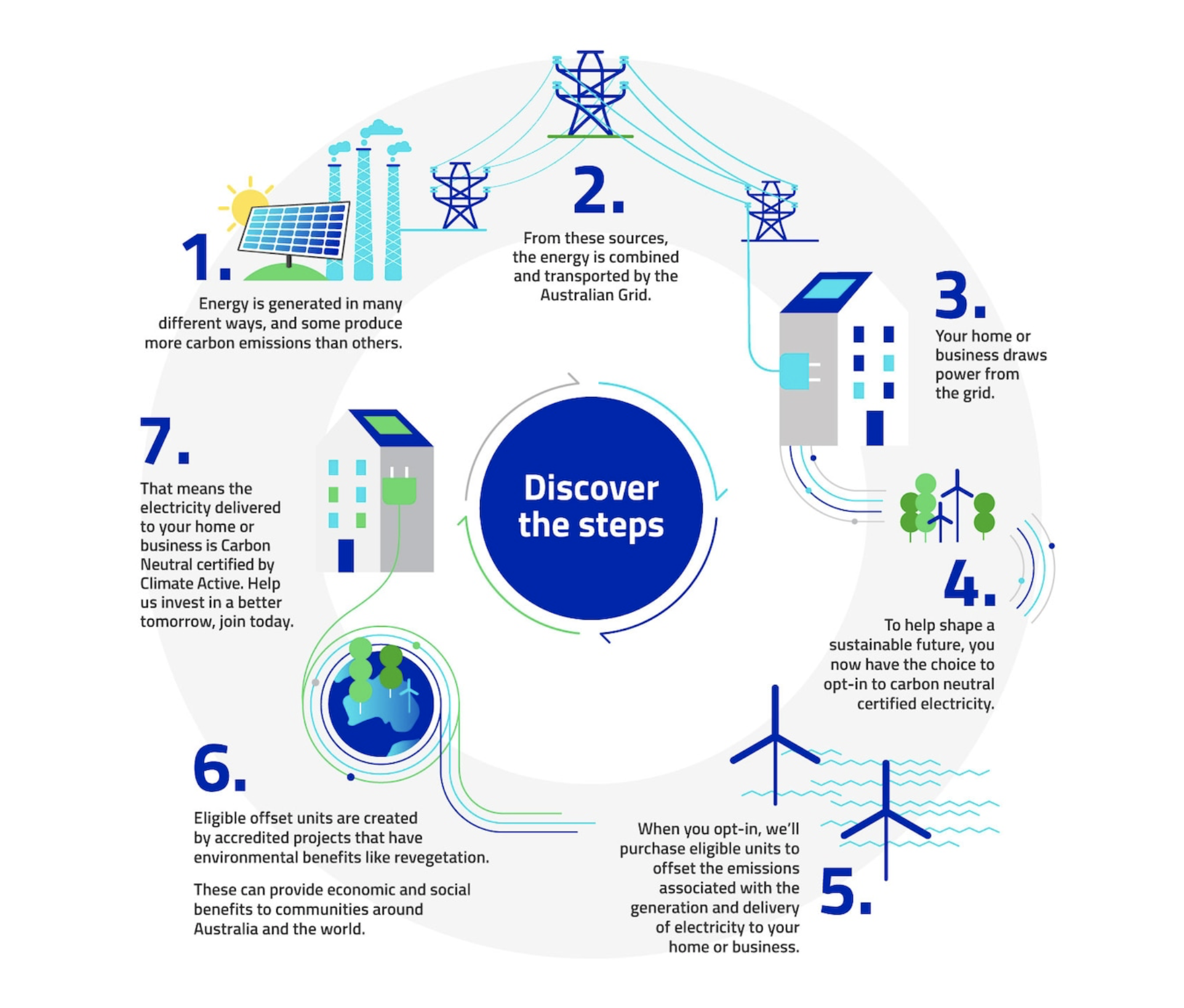 For an energy company like AGL, they offer the opportunity for customers to opt-in to Climate Active-certified carbon neutral electricity. For customers who opt-in, they will take action by purchasing eligible offset units, to cover greenhouse gas emissions associated with the generation and delivery of electricity. Offset units represent reductions or removals of greenhouse gas emissions through certain projects, like native forest regeneration and cleaner energy generation in developing countries.
Carbon offsets… and carbon offsets
Not all carbon offset units are created equal. There's a wide range of carbon offsets that differ in source, methodology, and price. There are many different offset methodologies. Some include reforestation, renewable energy, or energy efficiency projects that generate eligible carbon offsets; projects that involve the destruction of certain industrial gases; and projects that involve the capture and destruction of methane from landfills and certain agricultural activities. Many of these projects also provide other positive environmental and social benefits.
Different Types of Carbon Offsets
GSVERs: Gold Standard Verified Emission Reductions are carbon credits created from projects that adhere to high levels of environmental integrity and deliver sustainable development benefits to local communities as set and determined by the Gold Standard. Established in 2003 by WWF and other international NGOs, Gold Standard is considered a rigorous climate standard.
ACCUs: Australian Carbon Credit Units are carbon credits that are generated under the Carbon Farming Initiative (CFI) and meet stringent measurement methodologies to ensure they are eligible. The majority are issued in agriculture and include forestry, vegetation, savanna burning, and landfill gas. Projects must be Australian, and the offsets are issued by the Clean Energy Regulator in Australia.
CERs: Certified Emission Reductions are a type of offset issued under the Clean Development Mechanism. There is a broad range of credits and methodologies available under the Clean Development Mechanism that apply to projects across the world.
In line with the Climate Active standard, AGL does not invest in pre-2012 CERs, long-term CERs, temporary CERs, CERs involving the destruction of certain gases, CERs from nuclear projects, and CERs from large-scale hydro projects inconsistent with the EU criteria. We also don't invest in palm oil projects or projects that are the drivers of deforestation, where the destruction of habitats could occur.
VCUs: Verified Carbon Units are issued under the Verified Carbon Standard (VCS) program administered by Verra. VCS is the world's largest voluntary greenhouse gas program. VCUs are characterised by a number of quality assurance principles which ensure all VCUs represent greenhouse gas emission reductions or removals that are real, measurable additional, permanent, independently verified, conservatively estimated, uniquely numbered, and transparently listed.
Read the full article online below:
thehub.agl.com.au/what-it-means-to-offset-carbon-emissions