January saw an unpleasant start to the new year with record temperatures, lack of reserve, load shedding and administrative price caps, with the now all too regular familiar aggressive patterns of generator bidding behavior. All this culminated in extremely high electricity prices, resulting in the breaking of electricity pool price records across the southern mainland States.
Demand levels increased in January as high temperatures impacted all states, with January officially the hottest month on record since 1910. VIC and SA experienced several heatwaves culminating with temperatures exceeding 40 degrees two days in a row in Melbourne and exceeding 46 degrees in Adelaide later in the month. With multiple large base-load generation units offline in Victoria for maintenance, demand exceeding 9,000MW and low wind, spot prices ratcheted above $14,000/MWh causing an extended period of extreme high prices. Continued high prices the following day then triggered an administered price cap in both VIC and SA that lasted until 1st of February.
NSW also experienced extreme heat conditions during January, driving prices above $10,000/MWh in last day of the month when demand got close to 14,000MW, compared to the average over January of 9,000MW.
QLD, with its predominate State owned generation, saw less volatility than the other states with moderate summer demands, although average prices did increase sharply off the back of extreme prices and general market conditions across the National Electricity Market (NEM).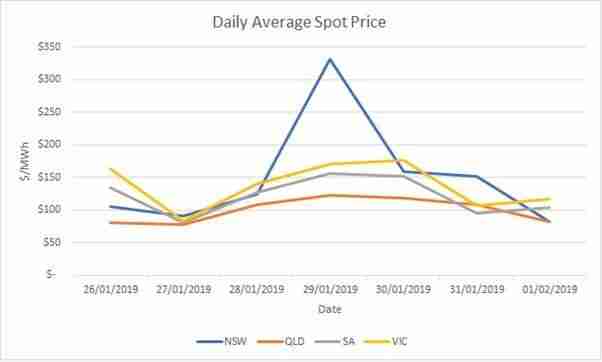 Figure 1 – Daily average spot price over the last week of January
Spot market pressures within the NEM over recent months have already flowed through to the electricity contract market with Retailers reporting higher contract prices for commercial and industrial customers in all states as a result.
Figure 2 – 2019 and 2020 contract price changes (Source – ERM Energy)
Victorian base-load power futures for 2019 were at $116.25/MWh at the end of January 2019, a jump of about 54% from last year's low recorded in June.
Futures for South Australia were trading above $111/MWh, close to $102/MWh for NSW and nearly $82/MWh for Queensland. That equates to an increase of 32% for South Australia, 49% for NSW and 32% for Queensland compared to the 2018 June lows.

Figure 3 – Base-load futures increase from June 2018