To analyse how the electricity market tracked for 2017, it is important to look back at what was happening in the last quarter of 2016. Historically quarter four is contractually the busiest time of the year, as many customer's electricity retail agreements expire. It can also be a period of high volatility and price uncertainty as it approaches the summer period. While electricity retail rates rallied up across all states in the last quarter of 2016, its continued and aggressive rise through into quarter one was unexpected and even caught the Retailers by surprise.
Historically quarter one and two have been periods of opportunity to secure a more favourable market contract, however with the strong rise in the market at the start of the year, many customers who sought pricing then deferred decisions until later, while others seeing an aggressive rise raced to sign up for fear of further escalation. Customers coming off contract mid 2017 who were yet to renew battled to come to terms with a small window of time to decide, coupled with extreme volatility, while those with 2017 end date agreements either looked at prices in early quarter one and deferred making any decision or didn't come out to test the market until later in the year. Those with operations in SA and VIC with contracts expiring in 2017 who delayed an early quarter one decision to re-contract were the most disadvantaged, while QLD and NSW customers had a window of reprieve towards the end of the 2017 financial year, leading into July. Mid 2017 saw VIC, NSW and QLD hit the bottom of the curve after the quarter one price surge, with only QLD returning to pre-2017 levels. After the rally of prices in quarter one and two, SA softened slightly through August and September, but didn't drop to early quarter one levels.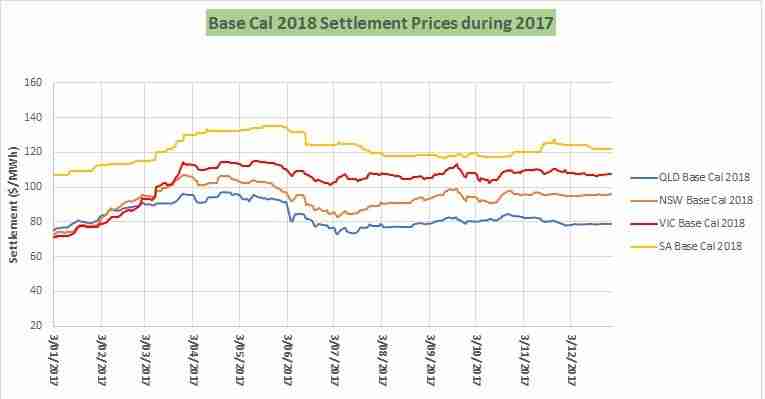 Temperature drops as winter prevailed saw increased demand across the NEM, although there were no incidents of extreme wholesale prices. Average wholesale prices for QLD were well below other states, which was mainly due to the state's high generating capacity. NSW average wholesale prices were comparable to previous months as coal and hydro generation stepped up to meet the winter demand. Average wholesale prices for VIC rose in July to their highest level for the year. The re-energised Pelican Point gas fired power station in May 2017, with the 2nd unit brought on-line in July helped ease the SA market, along with a drop-in demand from previous months.
September brought with it an exceptional period of unseasonal warm weather during the last week of the month resulting in many high temperature records being set in Victoria, New South Wales, and Queensland, although demand levels and average wholesale prices did not follow this trend.
The NSW average demand for October, November and December were comparable to the levels that we saw for the same periods the year before. October monthly temperatures were very much above average 2016 levels across the majority of the country, although a cooler November saw a slight demand drop, but this increased again in December in line with a rise in temperatures. QLD also experienced a cooler November for the most part, which resulted in a demand drop from October levels. Like NSW, this contrasted with an exceptionally warm December, the result of which saw demand picking up again for that month. Monthly average wholesale prices stayed consistently lower than September levels as baseload generation in NSW and QLD maintained their influence in both states.
Demand levels increased for South Australia in November by nearly 13% compared to October; the state's maximum demand jumped up by nearly 26% against the same period in 2016 due to above average temperatures. Monthly demand for December remained comparative to November but down from 2016 levels. As a result, average monthly wholesale prices increased for November and dropped for December. It should be noted that the Neoen (Tesla) battery's installation in South Australia at the end of November has bolstered the state's supply.
Victorian electricity demand levels in October were down slightly from the previous year. Temperatures were exceptionally warm for Victoria in November which saw demand increase by 4% from October levels, with a maximum demand peak of 12% compared November 2016. While December demand remained consistent to November, it was 4.5% up from last year, with a peak demand jumping to over 15%. Similarly to SA, average monthly wholesale prices for VIC increased for November and dropped for December. AGL's Loy Yang A went offline in October and a Yallourn coal-fired power plant trip in November (2 days prior to a planned 40-day unit maintenance outage) took nearly 400MW of generation capacity out of the mix and left the state a total 940MW short. AEMO issued a Lack of Reserve Level notification, which didn't eventuate due to a market response to the potential shortfall.